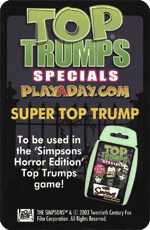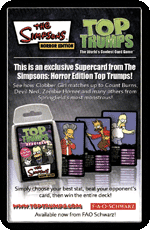 Clobber Girl is the STT for the The Simpsons Horror Edition. It is quite rare and collectors really want it. The only downside to Clobber Girl is Sheer Evil where she has 6 out of 50. However, it's unusual to have a Clobber Girl and not a Stretch Dude, but stretch dude wouldn't be as good anyway.
A USA version was released in 2008.
See Also
Edit
Ad blocker interference detected!
Wikia is a free-to-use site that makes money from advertising. We have a modified experience for viewers using ad blockers

Wikia is not accessible if you've made further modifications. Remove the custom ad blocker rule(s) and the page will load as expected.