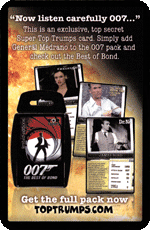 The Mr. White card is the mysterious character from the Daniel Craig era of James Bond movies, and was given away free with subscription to Planet Top Trumps.
It is one of two STTs for the 007: The Best of Bond pack.
Ad blocker interference detected!
Wikia is a free-to-use site that makes money from advertising. We have a modified experience for viewers using ad blockers

Wikia is not accessible if you've made further modifications. Remove the custom ad blocker rule(s) and the page will load as expected.