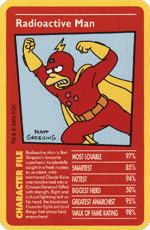 Radioactive Man was the first STT released and it was for The Simpsons pack of Top Trumps, but there are 2 versions.
The non percent version is the oldest STT out now. it is different to its later version as it has no % signs on it. This is one of the rarest STTs ever. Rarely makes it's way to eBay.
The later Radioactive Man STT is different to the Non % Version of the card as it obviously has the % signs. It was originally sold in the "Love Springfield Style" video.
The STT itself is good, it's a little low in "Biggest Nerd" but overall a good card. Both versions are essentially the same, but in non percent the stats are out of different numbers rather than in the Percent Version where all stats are out of 100. However that version is easier to find a best stat, I think people would want the STT to go with there pack (percent or not) rather than the other.
The Radioactive man STT was the first and second STT. The non percent version made its way out first, then one year later they re released it to compliment the percent pack. It would've been though that the percent one be made first due to the thought that they made that pack first and then changed the stats into non percentage figures.
Ad blocker interference detected!
Wikia is a free-to-use site that makes money from advertising. We have a modified experience for viewers using ad blockers

Wikia is not accessible if you've made further modifications. Remove the custom ad blocker rule(s) and the page will load as expected.